Ad Performance and Creative
Your Facebook ad creatives and copywriting are among the top ad elements that decide whether your ad campaign succeeds. If a Facebook user is scrolling through Facebook and your ad doesn't catch their eye, they won't click on it, end up on your website and they definitely won't end up converting.
The ads design will affect your CPA ( Cost-Per-Acquisition ) and CPC (Cost-per-click). Consumer Acquisition even found that images are responsible for 75%-90% of ad performance. This is why it is of utmost importance that your ad image rocks!
How to Set Up Your Facebook Ad Creatives
In the campaign creation phase, you can select between several types of ad creatives, depending on your campaign objective.

Facebook allows you to select and test up to 6 different image ads to find the best-performing option. We suggest that you always test some ad elements, and your Facebook ad design is a great place to start.

To select ad images, you have three options:
Upload a picture from your computer
Browse your library to reuse a picture you had previously uploaded
Find images in the free stock images database
Thanks to a partnership between Facebook and the image bank Shutterstock, you can have access to millions of stock pictures for free! It's very important to frequently refresh the images of your ads, so users keep seeing them as fresh and attractive. Being able to immediately find and use new pictures for free is very useful (and will save you a lot of money).
However, keep in mind that these free images are available to all Facebook advertisers, meaning that most of these images are used across thousands of ad campaigns. You should consider them a last resort, as it's quite likely the volume of Facebook users that have already seen the image is pretty high. We also know that it's always better to generate your own graphics to use instead of relying on free stock images.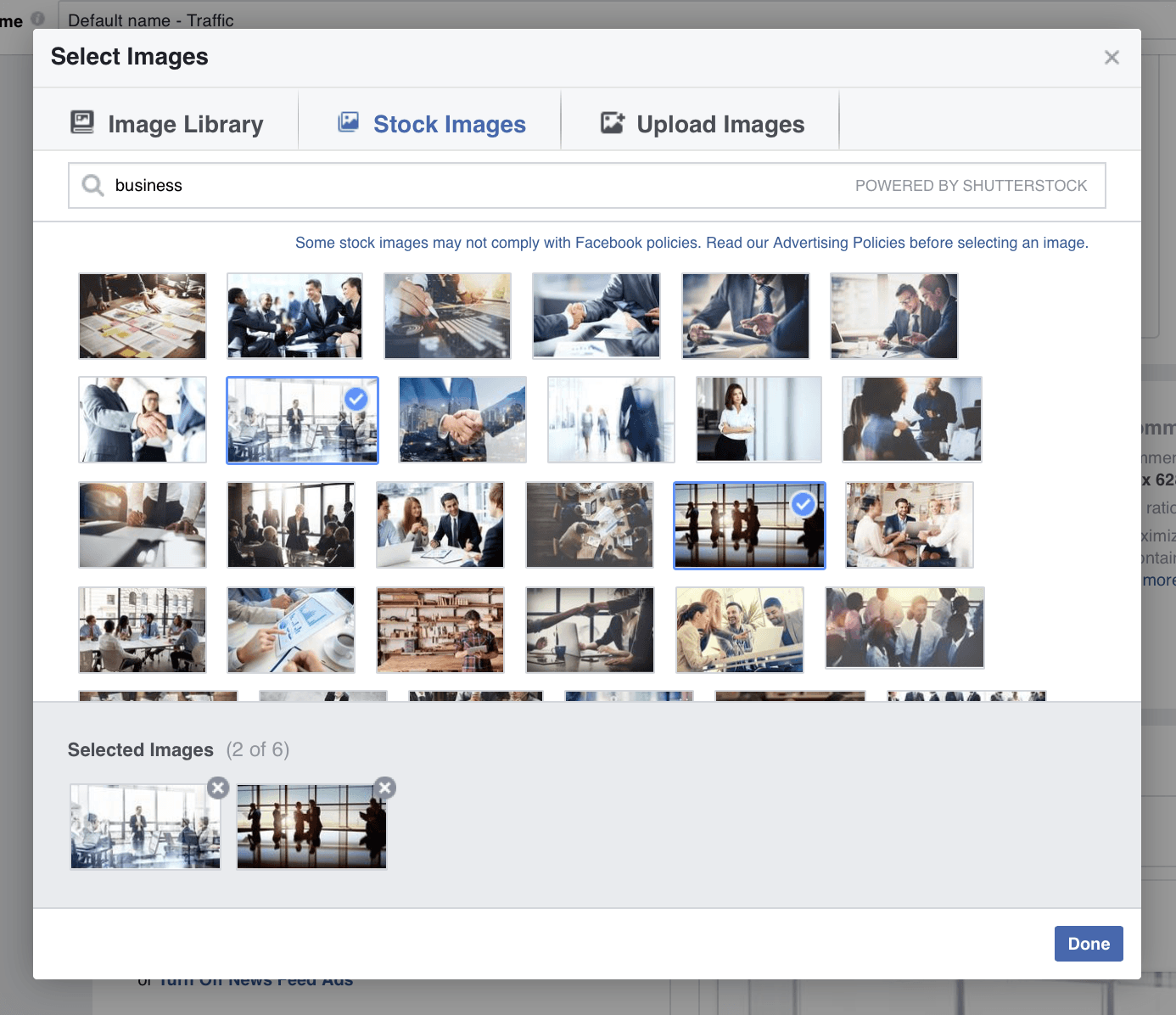 Selecting your Ad Image from your Image Library, Stock Images, or Uploaded Images from your computer.
Facebook Ad Design Best Practices
To help you create winning ad creatives that will bring you clicks at a low CPC, we made a list our favorite Facebook ad design hacks.
To create beautiful Facebook ad designs, you have to:
Keep your ads colorful, so that they'll immediately catch attention
Place your main value proposition in the ad image, so that people will read it right as they see your ad
Create ads that contrast with the newsfeed
Use the right image size (1200 x 628 pixels), so that your ad creatives look good on every screen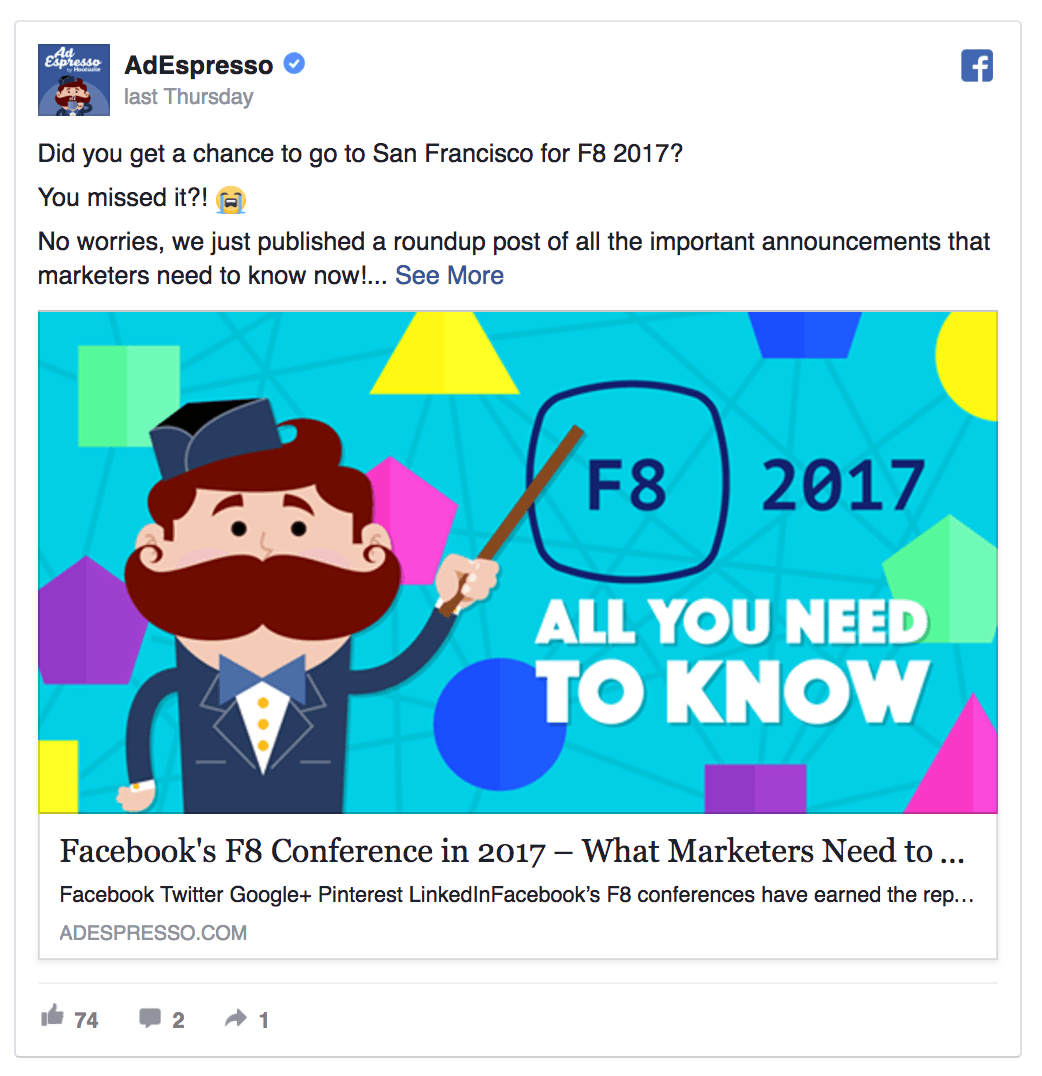 If you'd like to learn more about Facebook ad design, we suggest you read these guides:
Now that we have some ideas on what makes a great creative, let's write our ad copy!
The Ad Copy
Your ad copy is the second most important part of your Facebook ads, right after the ad image. The ad copy should first catch an ad viewer's interest and then convince them to take action, e.g. make a purchase.
Your Facebook ads have multiple fields where you can place text:
The main ad text – up to 90 characters (up to 500 for News Feed Ads with AdEspresso)
Headline – up to 25 characters
Link description – up to 90 characters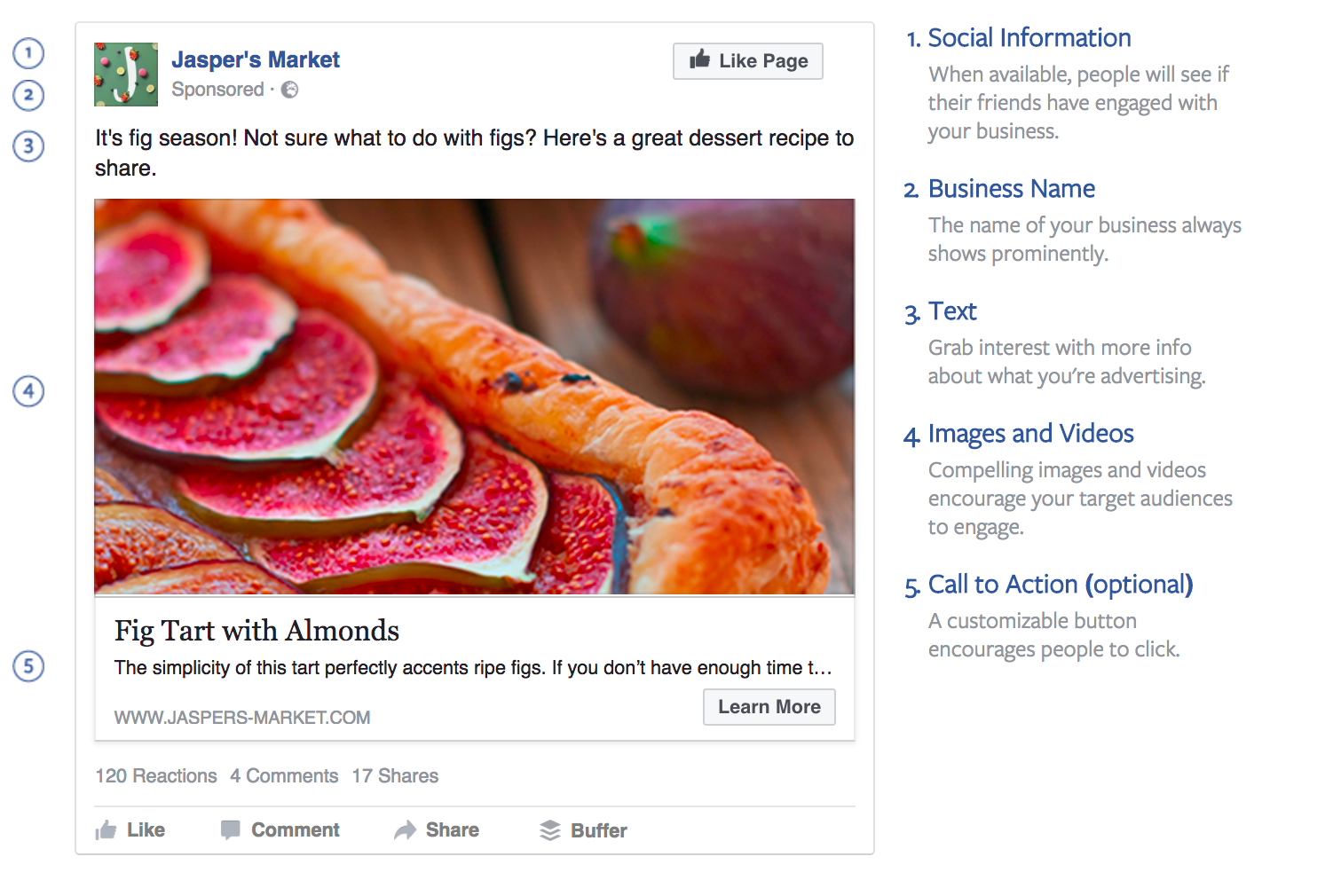 Anatomy of Good Ad Copy
It's a good idea to have several different headlines and descriptions ready before you start creating your ad. This will make it easier for you to find something you like instead of making it up on the spot.
As you can see, you have some more options available when dealing with News Feed and Mobile Ads, compared to the classic Right Column Ads. First of all, you can pick a "Call to Action" button among those offered by Facebook. These buttons have proven to be really effective to increase the click through rate. If they fit your product, we strongly advise you to use them.
Remember, keep your ad copy short and extremely clear. Here, the goal isn't selling. It's about convincing users to click on the ad to discover more. Try to be catchy and clearly explain to users why they should click. Offering discounts and freebies usually help.
However, be careful not to attract too many cheap clicks that won't convert.
Eager to know more? These are great resources to dig deeper into the secrets of Facebook ad copy:
How to Set Up Your Facebook Ad Copy
Setting up your ad copy is super easy. All you need to do is enter text in the right fields.
You'll also see a preview of your ad campaign. If you're testing multiple ad images or wish to see how your ad looks on different screens (Desktop vs. Mobile), you can do so by selecting other views from the two menus highlighted in the image below.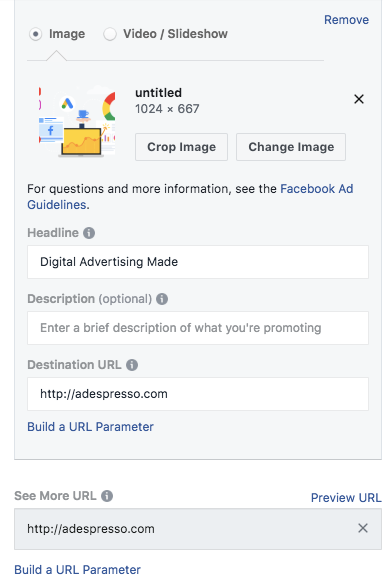 Uploading your Images, Headline, Description, and Landing page in Ads Manager
You have three choices when it comes where your Facebook Ads will appear: the News Feed, Mobile, and right column.
Many marketers assume right column ads are a waste of money since they don't perform as well as News Feed ads. However, right side ads are relatively cheap and you'll never know which ad type is best for your campaign without testing. Give them a try.
Another thing to keep in mind is mobile targeting. Some advertisers make the mistake of sending users who click mobile ads to non-mobile optimized sites. Only use mobile advertising if your site is mobile-friendly otherwise you'll waste lots of money since Facebook mobile generates lots of clicks.
Removing a target is pretty simple. When creating an ad, you'll have three tabs to check a preview of it in the three available placements. At the end of each placement's tab, you have a "Remove" link. Just click it to disable a placement.
Et voila! You've created your first Facebook ad!
In the next chapter, we're going to explore the different types of Facebook audiences – so that you'll know about all the possible targeting options.